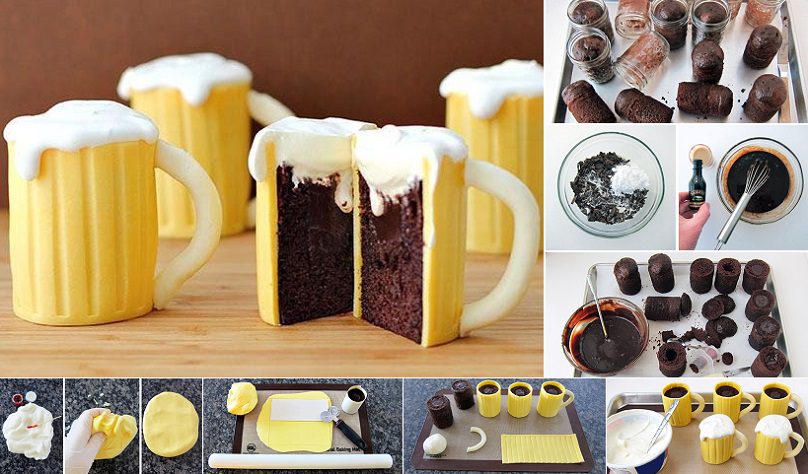 Spoil your guests with these amazing beer mug cupcakes. They look as good as they taste and they are filled with delicious Bailey's Irish Cream. You will find the list of ingredients down below.
Cake ingredients: 3 eggs, 1/2 cup vegetable oil, water and 1 box of Betty Crocker Triple Chocolate Fudge cake mix.
Chocolate ganache ingredients: 5 ounces of chocolate, 1/2 cup of heavy whipping cream, 2 tbsp powdered sugar and 2 tbsp of Baileys Irish Cream.
Beer mug cake wrappers and foam ingredients: 30 ounces of white modeling chocolate, yellow food coloring and 1 tube of frozen whipped topping.
Supplies: 10 half-pint mason jars, non-stick cooking spray, tray and knife.
Directions: Make the cake mix using all the ingredients and split the composition into the mason jars into equal proportions. Bake 20 minutes at 350ºF and start making the chocolate ganache. Mix the ingredients for the ganache (except the Baileys Irish Cream), put them into a microwave until they are melted and then add the Irish Cream to it. Take the cake out of the jars and do some wells in each one of it then pour the chocolate ganache into each one. Put the yellow coloring into the modeling chocolate and start doing the actual form of the beer mug. Use the pictures for a better understanding. Before serving put some whipped topping into the mugs. Ready!

Source: Tablespoon
What do you think?
comments