The Cotswolds is an area of England about the size of greater Tokyo.
Popular with both the English themselves and visitors from all over the world,the Cotswolds are well-known for gentle hillsides ('wolds'), sleepy villages and for being so 'typically English'.
There are famous cities such as Bath, well-known beautiful towns like Cheltenham and hundreds of delightful villages such as Burford and Castle Combe. Above all, the local honey-coloured limestone, used for everything from the stone floors in the houses to the tiles on the roof, has ensured that the area has a magical uniformity of architecture.
You will see 'Drystone walls' everywhere in the fields. Many were built in the 18th and 19th centuries, a matter of considerable skill as there is no cement to hold the walls together. They represent an important historical landscape and a major conservation feature – and are of course still used by farmers to enclose sheep and cattle.
During the 13-15th centuries, the medieval period, the native Cotswold sheep were famous throughout Europe for their heavy fleeces and high quality of wool. Cotswold wool commanded a high price and the wealth generated by the wool trade enabled wealthy traders to leave their mark by building fine houses and wonderful churches, known as "wool churches". Even today, the sight of sheep on the hillside is still one of the classic Cotswold images.
Not all villages are well known, and today many still hold their secrets. Amongst the treasures to be found are perhaps a hidden village off the beaten track, perhaps Painswick, Biddestone, Winchcombe or Woodstock, or an unspoilt historic church, such as at Northleach often called the "Cathedral of the Cotswolds" – open the church door and you will discover a hidden world of history.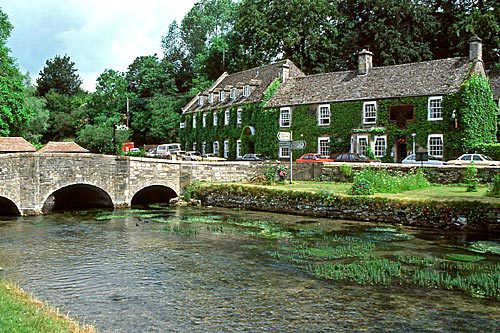 Today, the larger market towns and villages of the Cotswolds are famous for their shops, such as Stow-on-the-Wold, Cirencester, Chipping Norton and Tetbury.